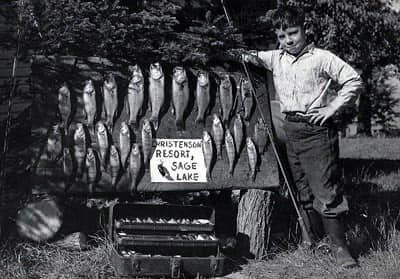 Sage Lake is a 785-acre all-sports lake in Ogemaw County, Michigan. It's located north of M-55, 16 miles east of West Branch, and 22 miles west of Tawas City. The lake features three islands and a public boat launch managed by the DNR. We have a mix of seasonal homes and year-round residences, with some families boasting four generations (or more!) of Sage Lakers.
The surrounding area has off-road trails for four-wheelers and off-road vehicles, and the snowmobile trails are abundant.
Sage Lake has three islands — one is privately owned, one includes several privately owned homes, and one is available as a short-term rental.
Anglers enjoy fishing for Sage Lake's bluegills, large- and small-mouth bass, pike and more.
Joy Rick Atkins wrote "Reflections on Sage Lake" in 2006 when she was 83 years old. The book is a memoir of a half-century of summers spent at a cottage on Sage Lake originally purchased by her in-laws. Having always dreamed of someday owning a cottage, she and her husband and their young family spend as much time as possible at a place that became a much loved home away from home. Atkins died in 2020.
The book also includes research she did about the origin of Sage Lake and its namesake, Henry W. Sage. Here is an except from the book:
Henry W. Sage came from New York to Lower Saginaw (now Bay City) in the winter of 1847 to purchase timber for his lumberyards in Ithaca. Although he did not return to Bay City until the early 1860s, he had been purchasing pinelands throughout Michigan, primarily in Saginaw and north, eventually controlling a large portion of the state. His largest land areas were in Saginaw, Bay, Arenac, Ogemaw and Iosco counties. In spite of his many holdings it's doubtful if he ever visited any of the areas with the exception of Bay City and Saginaw.
Sage and his partner, John McGraw, built their lumber mill on the west shore of the Saginaw River opposite Bay City.
Ogemaw was designated a county in 1840. As early as 1852 lumber speculators had begun buying large tracts of land. By 1889 Sage owned over 50,000 acres in Ogemaw County alone which included almost every township. Among those 50,000 acres was Sage Lake and a large area surrounding it. Once the land was almost denuded of white pine, he let it all go for back taxes. Always the business man, he had used his wisdom and his acuity to amass a considerable fortune in more than a forty year period, but he knew when to quit. Soon after, the era of the white pine was over. There were few left standing.
According to our deed, "United States Lands (were sold) to Henry W. Sage of New York, N.Y. Recorded August 31, 1863. Purchase of Lot three in Section 28 of Town 23 North of Range 4 East, containing 32.99 acres, and other lands." A section of land is 649 acres. After studying the deed carefully, I'm certain the purchase involved the area later called Hawthorn Heights, which now consists of three streets, Hawthorn, where our lakefront cottage is located, Richland and Sunset, up and around the hill above the lake.